Mud Lake Trail
Inside the red semi-circle line indicates where the Mud Lake Trail is located.
To access the Mud Lake Trail, drive north from Heriot Bay for ten minutes or so to the Walcan Road on your left and take this dirt road for a half-mile, past the Morte Lake Trail Carpark, and a ½ kilometer farther along you will pass a swamp on your left, as shown below.
After another ½ kilometer you will come to this large swamp on your right, with a stream flowing from it into a culvert under the road. You will also see the Mud Lake trails sign on the same side of the road as the swamp, at the east end of the swamp, and a parking space on the left of the road here.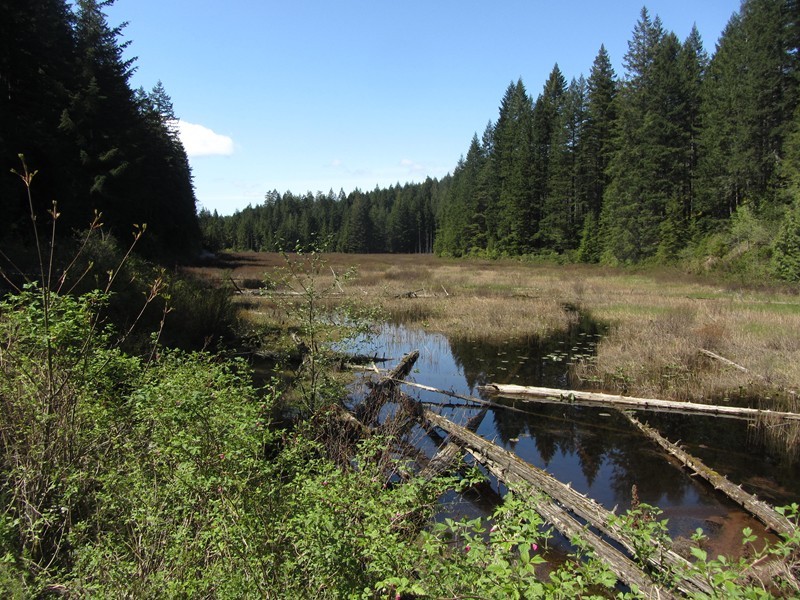 Follow the trail but do not take any side-trails off to your right. These are biking trails and some go to Morte Lake. These trails can certainly be hiked as well as biked, but they do not all go to Morte Lake.
The main trail goes around the edge of the swamp and after 10 minutes or so of walking the trail takes you to Mud Lake, where it follows the shore of the lake for 15 minutes before joining the road. Just before the trail joins the road, there is a sign-posted side-trail for hiking which goes to Morte Lake You can then walk back along the road for 15 minutes to your car. It is a picaresque trail and there are beaver in Mud Lake and in the big swamp, so if you are there especially during dusk or dawn, you may see Canada's national animal, the beaver.
Mud Lake, with a logging truck coming along the dirt road to Walcan Fish Factory. This is also an active logging road.
Updated on 1st. May, 2018.
Total Page Visits: 2773 - Today Page Visits: 1