This page will describe trails and other outdoors features on Quadra which do not have their own page on this site. Eventually some of these may get their own page, once this site's admin has been to the new trail/feature, explored it in person, and collected more info and pictures etc. about it.
Wild Plum Tree Trail
This is a very short trail which more-recently (2014/15) came under control of the Quadra Trails Committee and was upgraded by the committee's volunteers. This trail begins at the waterfront in Heriot Bay, where the car-park for the government wharf is sited. The trail simply runs along near the beach there, north from the car-park then goes up to Hyacinthe Bay Road. There are plenty of good wild plum trees along the route, both yellow and red plums to eat if you walk it at the right time of year. (This trail description will be updated and more-detailed here within 12 months). This trail allows you to avoid walking along the side of 2 busy roads; Cramer & Hyacinthe Bay, for a short ways.
ViewRanger view of Wild Plum Tree Trail
Big Tree Woodlot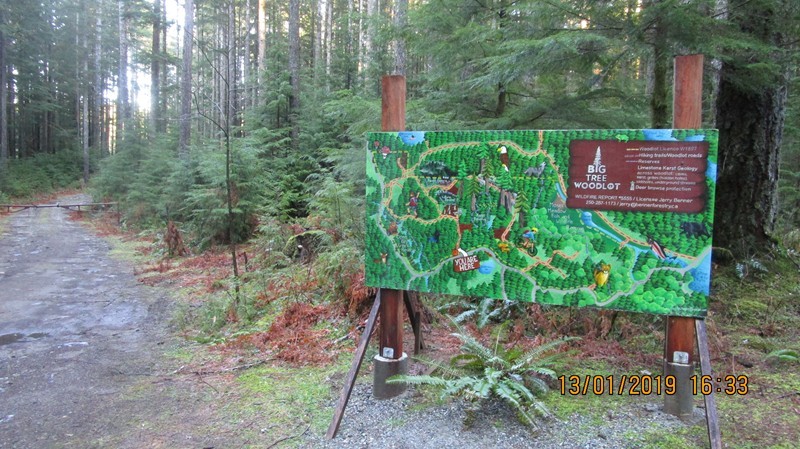 On the way north from Heriot Bay, after you have driven for about 20 minutes and have passed the Granite Bay Road turnoff and have passed the Open Bay Main turnoff, you will see on your left a large colourful sign, as shown above and below, depicting the outdoors features to be found in BIG TREE WOODLOT, Jerry Benner's Woodlot NO. W1897. This system of logging roads makes very interesting walking and mountain-biking, with areas of karst (limestone caverns, caves/sinkholes) and specific wildlife areas of interest within it to explore. This sign shows the routes to and locations of these various features, and the sign marks the entry point into the roads system> This sign is beside the main road about a half-mile towards Heriot Bay from the Valdes Road intersection with the main road north to Village Bay Lakes.
190total visits,1visits today